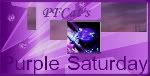 Purple Saturday
Kim
of Purplefrogcat is back with this color themed photo meme. It does not need to be Saturday to play ... as noted by this Sunday post.
I took the original photo (left) and put all kinds of tweaks on it, ultimately producing a digital work of art. Yeahhhh - art may be a strong word for a computer enhanced picture, but I like the way this turned out. Might look good in a frame over my
GoGandi
Sculpture in the study where I write novels.
Cheap Used Golf Carts & more Cheap Used Golf Carts
PS: If you are admiring that really nice blog button ... I made that too. I can create a button for your blog as well, if you post something nice about Hollydale.
My new movie is out now too: "
SPEEDYCAT SURE IS SPEEEEEDY!
"