Another year
That's the understatement of all times. This year for me was really split in half. Those that know me from my blog know that while I share snips and small glimpses into my personal life, my usual posts are simply spur of the moment keystrokes mixed in with photo creations. Seems most women write personal journals, while the few men that blog are more topic driven or themed in their posts.
In 2009 I became single. While this separation was in the making for a very long time, it was finalized in July. We both knew the reasons why the split was logical, but in the end I saw her become someone I did not know. Even at the worst of times, I trusted this woman and believed she was a good person. Things change.

June will forever be remembered as the most turbulent, unpredictable, emotionally and physically demanding month of my life. I was extremely busy at work, and overwhelmed with a million problems that just seemed to keep on coming like train cars rolling downhill. There were a few nights I did not even sleep. Ultimately it ended by making a snap decision on where I would move, as my first choice did not work out.

I quickly scrolled through all of my posts from 2009 before writing this final entry, and picked out a few that stood out. This first selection was written after my move was complete, and just hooked up the internet. I had no plan or outline, and simply conveyed my thoughts at the moment.
The last month has been one that I never want to re-live again, yet I looked forward to my new start all the while, and also getting set up in my new "home". What seemed to be a far off picture in my mind of what I was "striving for", has now become reality. They say persistence and faith are what keep a man from quitting or giving up. I know that is true beyond a shadow of a doubt. Something bigger than me must have been guiding my course all along.
My road seems to have been paved with a million pot holes and detours. Every time it appeared that my tank was empty, yet one more station popped up ahead
as I rolled in on fumes
. Life is just that way
for all of us it seems
. We never make it to that perfect place, the perfect relationship, nor the perfect arena where happiness is a 24 hour a day sublime consciousness. I see the life journey as more of a long roller coaster that is always close to flying off the track in each hairpin turn.
You know, sometimes when you get lost, it forces you to find yourself once again. What's important to you, and what you stand for. I will never claim to be the best person in the world, and see my mistakes and shortcomings with a magnifying glass. I also know that deep down my soul carries with it a joy, and a love for others. My past may not be the best example of this, but I believe that self improvement and self re-creation is the strongest way to adapt, and reach out ... searching for the greatest moment of all.
" The moment you can look in the mirror and see a good person "
. When you can do that .... everything else seems to fall in place.
This is my first post written from the new Hollydale. This town is very similar to where I once lived, but it has far greater possibilities. The stars shine brighter. The air smells fresher, and my smile seems to last just a bit longer. I think I will like it here ....
The initial plan before I moved was that the dogs were not going with me. That changed last minute too. I took this photo after unpacking enough to see the living room carpet.

The blond colored female is Cookie. This dog sort of adopted me 12 years ago, and became known as "my" dog. Her original name was Kelsie ... I changed it. Cookie died in October. I have not blogged about this until now, and miss her quite a bit. While this saddened me greatly, I am thankful that I did not miss her last months. Cookie was without a doubt the sweetest dog that ever lived. Goodbye my baby girl


I think one post that really broke my standard mold last year was this one. I spent over an hour thinking, changing, and re-writing it. I even consulted an online thesaurus when I was searching for the right sounding / feeling words. Most of what I produce here is what I see as mildly entertaining, funny at best. Comments I received for this poem were very positive, and I think it is one of my top 5. I know, you are thinking I do not write poetry, but mixed in with the 1500 other posts I have pounded out, there are actually many hidden between the standard silliness.
ethereal passages ... songs that dance through my mind
a mood, a thought, a day dream or two
silence is pronounced as time elapses into night
sheer calm grandeur as fate decides

my path was carved it seems with solemn splendor, and placidity
hearts lie quiet

silence can flow as streams in meadow
sharp streaks of outline encompass the banks
I reach down to feel the chilled waters
a ripple, a vacillating wave, it peeks then fades

If the moon shines upon the lands, colors wane
softly lit shades of white and grey
a touch, a sensation piercing my spine
a twinkle from her eye tears through me
words unspoken with strength and unclouded visions

fears subside
warmth flows though my veins
to reside in Love's circle euphoric
... languid motions morph effortlessly 2 solid embrace

Back in February I participated in a Twitter party with some of my funniest and best "acquaintances" on the net. I laughed for hours strait, and this post was a product of the aftermath.
How do even start to have this make any sense?? Good question! Here is my best go of it.
Drowsey Monkey
is a blog that was started about a doll. No, the blog is NOT about a doll, but go along with me here. Drowsey posted a picture of the doll at
Twitter
. Conversation started about having blond hair before I arrived on my computer, as I was watching tweets with my mobile phone.
Nursehugankiss
, whose specialty is head transplants, offered to put
Jaffer's
head on the Drowsey Doll (with blond hair). Of course I wanted in on this. One after another, the "Head Transplants" came in and were posted at Twitpic. Here are the TwitPic links:
JafferDoll
,
SpeedyDoll
,
Drowsey Doll with Beard
,
Drowsey with 2 ears
. Of course, you do not have to click all these links because they are here, but many comments are at the Twitpic locations too and will further make this story harder to understand ... yet more interesting. (whew!!)

Here they are

Original Drowsey Monkey Doll
Jaffer Doll
Speedcat Doll
Drowsey Monkey Doll

.... and THIS one I created myself

Yes, the last picture was created after the fact
and nobody has seen it
... YET.
What makes this Twitter event even better is that you can find the same post written by two other authors! Check out
Never Post a Photo to TwitPic
by Drowsey Monkey
and
Fric, Frac and Speedy
by Jaffer
. Same story, but told much better than I did.
makes perfect sense - right ???

This next post was the most fun to create. It first aired in January, and I still reference to it all the time. What's not to like about a good space adventure? Of course, it is all true.
After building my Spaceship VENTURE Hollidalian, I planned my trip.

The mission would take 120 days, but I brought my laptop to blog about the journey ... time flew by. I never have encountered a mechanism that can twist time like writing. Hours seem as minutes, even in the vast darkness of the universe.

I also had my trusty co-pilot Mardy, an Apple Headed Chihuahua to break the intense loneliness of the tin foil craft. They call it tin foil - but why? It is really "aluminum". Of course with a high tinsel strength and low weight, this metal was the perfect material for my vessel.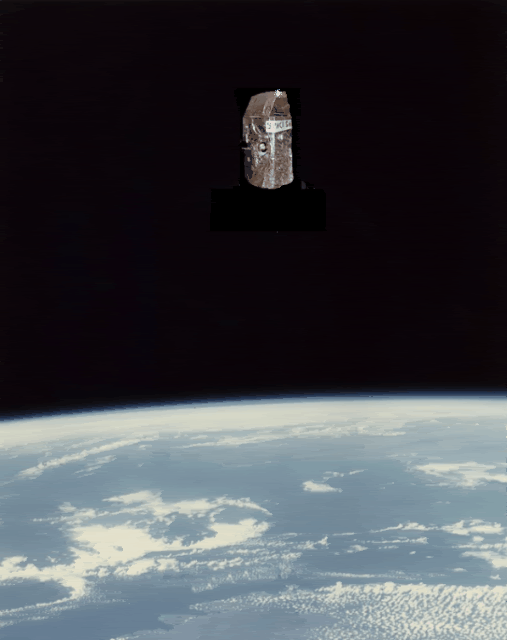 After a flawless landing, I grabbed my duffel bag and headed for the hotel. Yes, the rates were steep, but how often to you fly through 1 billion miles of black void in a tin foil space box?

When I arrived at the front desk a woman with purple boobs and green antenna's said, "What planet are you coming from sir?" .... what planet? How many planets were booking in to this place??

I replied, "Well, Earth of course ... are those naturally purple?"

She gave me the key to room 77, and never did answer the color quandary. Aliens are so sensitive!
Well, after such a long journey, I was parched. A grapefruit juice with a splash of diet coke on ice sounded terrific. Instead of going to my
room first, I stopped at the Inter galaxy Saloon and Dinner Club. Man, what a rowdy bunch in there! We were all talking shop, and comparing notes on bio-fuel mandates from the Utopian Commission on Uranus. (I put that in special for commenters)

The only other human in the place was the waitress .... and then she walked in. The most beautiful woman I had seen in my entire life. I invited her to sit at my table, and she obliged. We laughed, talked, and danced for hours! After a few more grapefruits, I got my nerve up and asked to to come up for a nightcap in my luxury suite. She asked if it was the one with the hot tub, and I said, "YOU BETCHA". Even though this verbal outburst clearly gave me away as a Minnesotan, she did not seem to mind.
After turning the key and opening the door to room 777, I stripped down to my bathing trunks and hopped right in. She sat on the edge, drinking some champagne.
Maybe it was the new planet, maybe it was the lighting ... who knows, but I asked her to marry me.


She said, "Why would I want to marry a man that drives a tin foil box?"


. .

... and where is my dog??
So, how do I finish this meandering mammoth year end post? How about another Hollydale style Epilogue!

After July, my life settled into something I had not felt in a long long time.
Peace
It has also became very stress free. I sleep well, I enjoy myself more, I have a better attitude, and a clear mind. I have found it so odd that people ask me why I am single, almost like that is some kind of negative term. I have not had a place of my own since .... well, NEVER BEFORE. I have been at the least "dating" a woman all my life with the exception of 1992 when it was clubbing year. That year I went out every night. You know I have only been sober for the last 6 years, right??
I am where I need to be at the moment. It could be described like this, "After the massive storm at sea, I landed on an island. I kissed the beach and built a hut". While I do not plan to stay here forever, I just cannot get enough of the view.

In 2010 I may be ready to once again look for someone to share my life with me, I don't know. For now, maybe I'll see you out at the dog park with my dog Mardy. He likes to eat grass.